I am so excited to be featured on
The Saturday Evening Pot's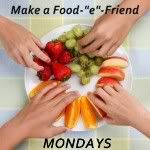 Make a Food-e-Friend Monday
!
Each Monday there is a link party that is always full of great meal and dessert ideas.
Before the party starts there is an introduction to a new blogger each week.
This way you can get to know the people you are sharing recipes with.
This week you can get to know me a little better so head on over and join the party.